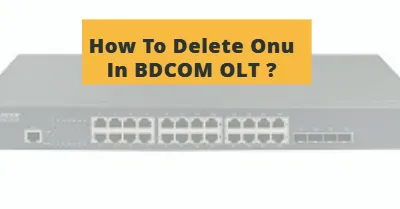 How To Delete Onu In BDCOM OLT ?
How to Remove Onu In BDCOM OLT, today we will learn how to delete ONU from BDCOM OLT. Let's see how we can…
First, you need to login to OLT.
Then go to "Enable" mode. That's why you need to type enable after login and press Enter to go to enable mode. Now you have to go to configuration mode; for that, you have to type config and press enter.
Then you must choose Epon and enter the command interface epon (epon number), such as interface epon 0/2.
Then give the onu number with the no command; for this, you have to enter the command no epon bind-onu sequence (onu number).
Then you must give the save command to save, otherwise the OLT will return to the previous configuration after restart. To save, exit Epon with the exit command. Then type "all and press Enter to save.
OLT_config#interface epoN 0/2
OLT_config_epon0/2#no epon bind-onu sequence 52
Like this you can delete onu in BDCOM OLT
If you have any questions, you can comment.
Read Also :