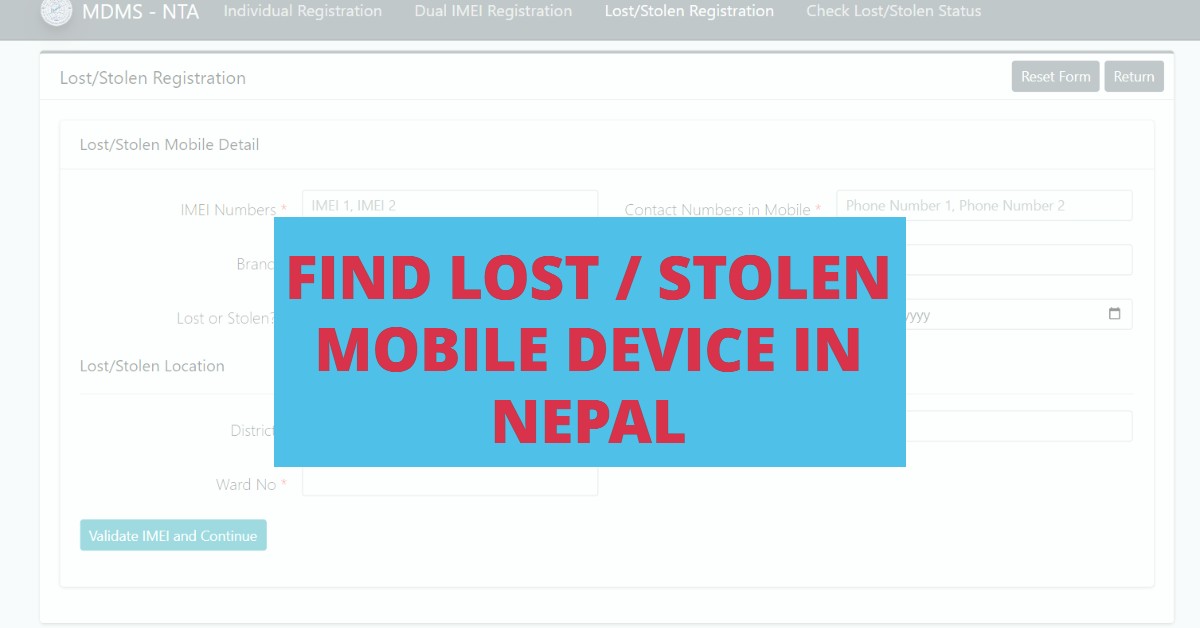 Table of Contents
Find Lost Stolen Mobile Device
I wrote this article after finding my lost phone after a year. Now, I believe that if a mobile device is lost or stolen, it will surely be found one day.  and thank you, Nepal Telecom Authority and Nepal Police. 
YOU MUST HAVE : 
1: IMEI Number 
2. Mobile Cover and VAT Bill (if not, then complain once) 
3. Citizenship or Passport 
Step 1. Visit  local police Station : Visit the nearest police station and report the loss of your mobile device. Provide them with the details of your device, such as the make, model, and IMEI number. 
Police Report Format for lost mobile
मिति : २०७८—११—१८
श्रीमान कार्यलय प्रमुख ज्यू
ईलाका प्रहरी कार्यलय
Police station address
                           बिषय :  मोबाइल खोजिपाँऊ
महोदय,
उपरोक्त सम्बन्धमा मिति २०७८—११—१६ गते बिहान १० बजे ……………बाट …………जाने क्रममा मोबाइल हराएको हुदा उक्त मोबाइल खोजि गरिदिनु  हुन हादिक अनुरोध गर्दछु ।
Mobile Model: …………..
Mobile Color: …………….
Mobile IMEI: ***************
निबेदक
मदन के.सी
Letter Format for Police
Step 2. Go to the MDMS Website,  Documents must be filled out and uploaded.  https://mdms.nta.gov.np/lost-registration/validateImei
Note:
If the details do not match or if the uploaded Scan Copy is unclear, the application will be rejected
You will get mail from NTA after 15 to 20 days.
Step 3.You will receive mail from the NTA, as shown in the image below.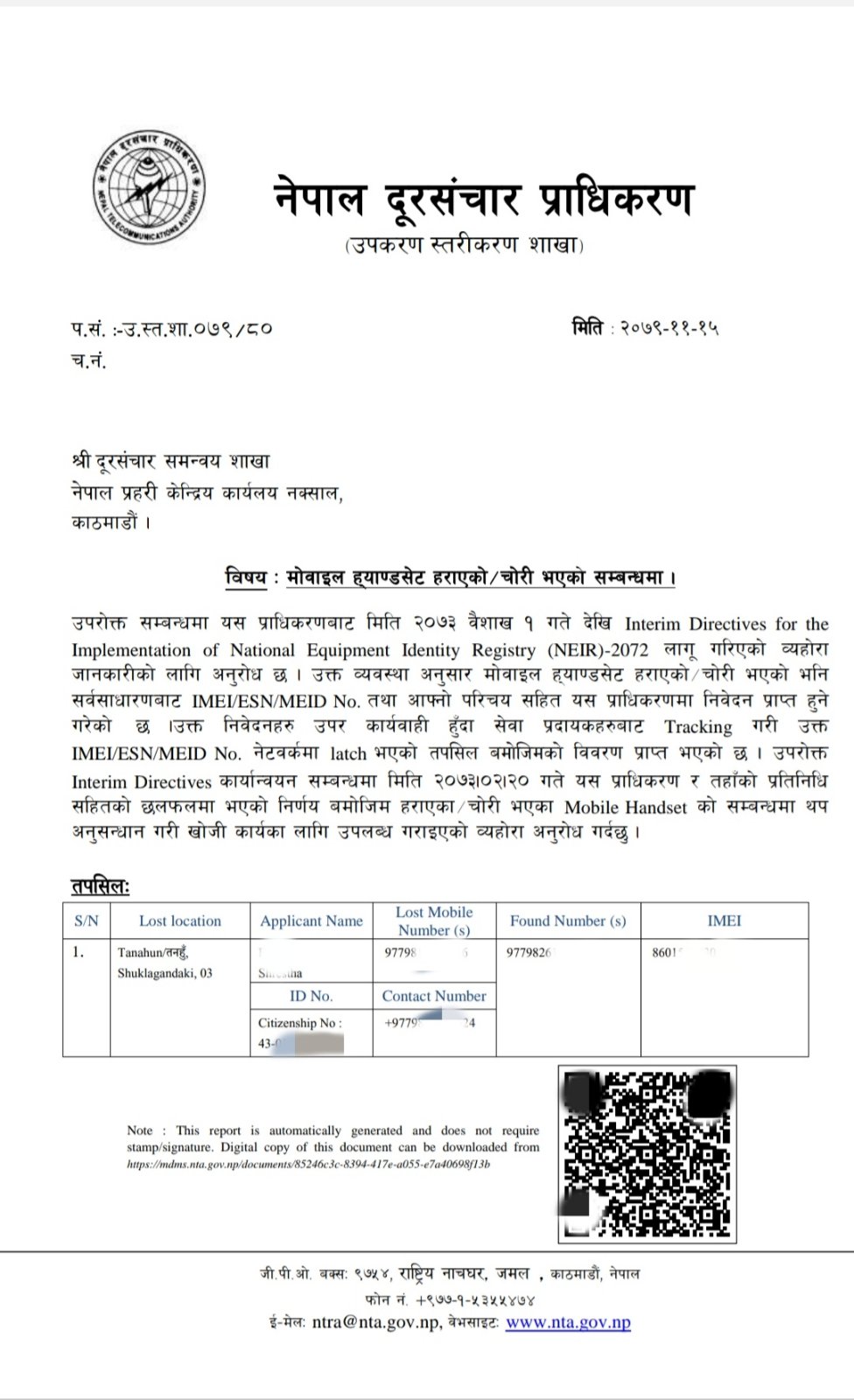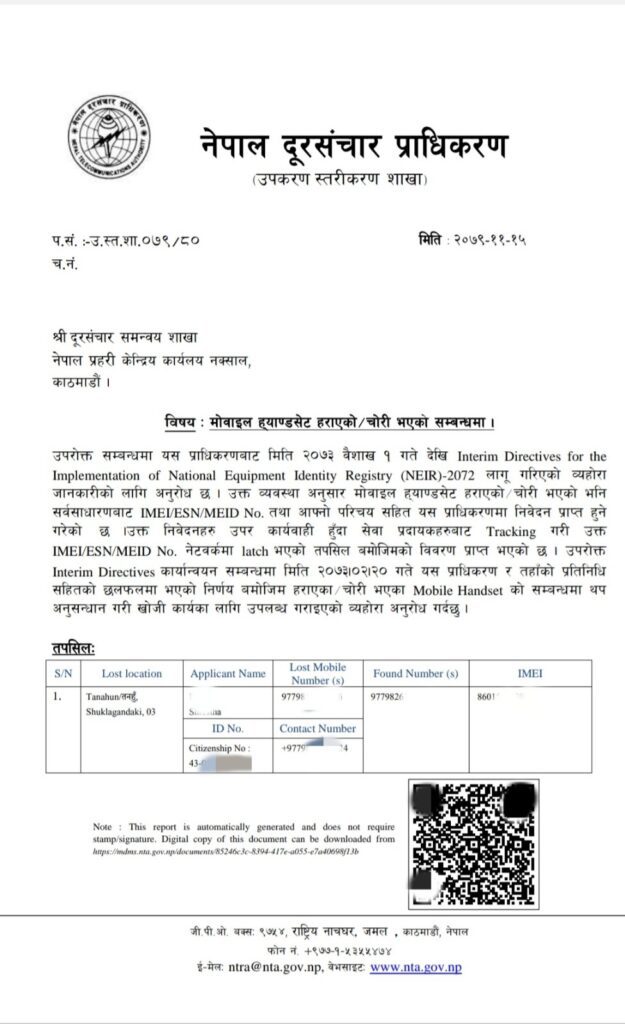 Step 4. After you get the letter from NTA Visit a nearby police station and tell them I got a letter from NTA about a lost mobile device that was found, and tell the police to call the given number and take information.
Step 5. Your lost or stolen mobile set will be in your hands.
I request everyone to return a lost phone to its owner.
What is an IMEI?
SIM-enabled devices have a 15-digit IMEI number. The IMEI of such devices does not match each other. The IMEI number is the property that identifies the device.
How do you find your IMEI?
After going to the keypad of your mobile and dialing *#06#, the IMEI number of the device can be found.
What is an MDMS system?
The Nepal Telecommunication Authority has implemented the MDMS system to manage the import and use of mobile phones. The role of MDMS is to ban mobile phones from entering the state illegally and to legalize the unauthorized use of mobile phones and SIM cards by common people.
What benefit does MDMS bring to the common man?
assists in the search for lost and stolen mobile phones It also prevents the unauthorized use of such mobile phones.
Do you buy and sell mobile phones that are not registered with the authorities?
No, this is illegal. Before buying a mobile phone, you should check whether the mobile phone is registered with the authority or not.
First script published date: 2079/05/30
In order to discourage the illegal import, sale, distribution, and use of mobile sets and to further organize them, including the tracking and blocking of stolen and lost mobile sets and ensuring that such mobiles do not operate within Nepal, the MDMS system is implemented by the Nepal Telecommunication Authority to inform all parties concerned. As of today, 2079 Bhadra 30th,
all mobile sets in use today, including those brought in personally from abroad, are automatically registered in the MDMS system. When buying a mobile after 2079 Bhadra 30th, the mobile set will be registered in the Nepal Telecommunication Authority's MDMS system (mdms.nta.gov.np) and is requested to be purchased only with registered or unregistered units. Also, mobile phone importers and sellers are informed that before importing mobile phones, they must get the approval of the authority and sell only mobile phones that are registered with the authority.