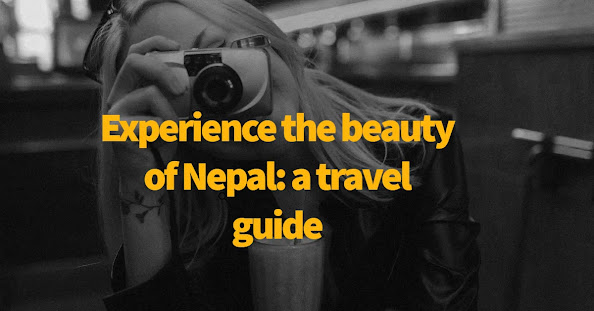 Experience the beauty of Nepal: a travel guide
Nepal is a small, landlocked country located in South Asia, nestled between China and India. With its stunning natural beauty, rich culture, and friendly locals, Nepal is an amazing destination for travelers. Whether you're an adventure seeker looking to tackle the highest peaks in the world, a culture enthusiast eager to learn about ancient traditions, or just someone looking to relax and take in the beauty of the Himalayas, Nepal has something for everyone.
Here are some tips to help you plan your trip to Nepal:
Best time to visit: The best time to visit Nepal depends on what you want to do. If you're planning to go trekking, the best time is from September to November and from March to May, when the weather is clear and dry. If you're looking to experience the annual festivals, October and November are the best months to visit. If you're just looking to relax and enjoy the scenery, any time of year is a good time to visit Nepal.
Visa: Most travelers to Nepal need a visa, which can be obtained at the Nepali embassy or consulate in your home country or upon arrival at the airport in Kathmandu. The visa fee varies based on the length of your stay, with a single-entry visa valid for up to 150 days costing around $50.
Transportation: The main international airport in Nepal is Tribhuvan International Airport in Kathmandu, which is served by several major airlines. From the airport, you can take a taxi or bus into the city. Within Nepal, the most common way to get around is by bus, which is cheap and convenient. You can also hire a car with a driver or rent a motorcycle if you're feeling adventurous.
Accommodation: Nepal has a range of accommodation options to suit different budgets and preferences. In the major cities, you'll find hotels, guesthouses, and hostels. In the countryside, you can stay in homestays, which are a great way to experience local culture and hospitality. Trekkers can choose to stay in teahouses, which are basic lodges found along the trekking routes.
Sights and activities: Nepal is home to some of the most breathtaking natural landscapes in the world, including the Himalayas, which are home to eight of the ten highest peaks in the world, including Mount Everest. Trekking is one of the most popular activities in Nepal, with a variety of routes to suit different fitness levels and interests. Other activities to enjoy in Nepal include white-water rafting, paragliding, and mountain biking. 
Food and drink: Nepali cuisine is a delicious blend of Indian, Tibetan, and Chinese influences. Some popular dishes to try include momos (dumplings), chow mein (noodles), and dal bhat (a staple dish of rice and lentil soup). For drinks, chiya (tea) is a popular choice, and you can also try locally brewed beers and raksi (a type of rice wine).
Safety: Nepal is generally a safe country for travelers, but it's always a good idea to take precautions. Avoid walking alone at night, and keep an eye on your belongings. It's also a good idea to register with your embassy upon arrival in Nepal.
Respect for culture: Nepal is a predominantly Hindu country, and the religion plays a significant role in daily life. When visiting temples, shrines, and other cultural sites, it's important to dress modestly, remove your shoes, and follow any other rules or customs that may be in place. Be respectful of local traditions and customs, and try to learn about them before you visit.
Health and vaccinations: Before you visit Nepal, it's a good idea to check with your doctor or a travel medicine clinic to make sure you are up-to-date on your vaccinations. Some recommended vaccines for Nepal include hepatitis A and B, typhoid, and rabies. It's also a good idea to bring a supply of any medications you may need, as they may not be readily available in Nepal. If you are planning to go trekking, make sure you are in good physical condition and take the necessary precautions to prevent altitude sickness.
Communication: The official language of Nepal is Nepali, but English is also widely spoken, particularly in the major cities. In more rural areas, you may find that fewer people speak English, so it's a good idea to bring a phrasebook or download a translation app. It's also a good idea to have a local SIM card or a portable WiFi device, as internet connectivity can be patchy in Nepal.
Overall, Nepal is an incredible destination that offers something for every traveler. From the majestic peaks of the Himalayas to the vibrant culture and traditions of the local people, Nepal is a place that will leave a lasting impression. So, make sure to include Nepal in your travel bucket list and have an unforgettable experience.
Read Also :